<![if !vml]>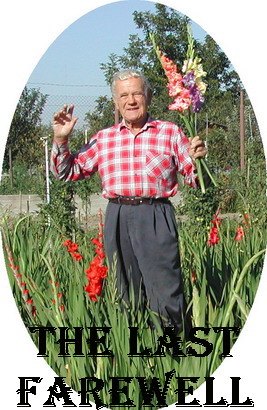 <![endif]>MY MOTTO : SERIOUSNESS - TRUTH - RESPONSIBILITY
ADAMOVI» - GLADIOLUS


Dipl. Ing. Igor Adamovic
inductee into
INTERNATIONAL GLADIOLUS HALL OF FAME
GREELEY, COLORADO, U.S.A.
An International Representative of the NAGC (North American Gladiolus Council) since 1976;
holder of the NAGC Gold Medal since 1980
and of the NAGC Achievement Award since 1982;
A Prominent European Gladiolus Originator - Hybridizer of Glads
of heaviest ruffling and substance, and many types fragrance.
Dipl. Ing. Igor Adamovic passed away from this world of mortals forever on the day of February 25th 2006 at the age of 73. I (Igorís son Jan) will try to continue in his creative work as well as I can. My goal is to prospect fatherís varieties and send them to whole world.
Please feel free to contact me at address below.
Living at address: Suhvezdna st.10, 82102 BRATISLAVA, SLOVAKIA
e-mail address: ja(at)gladhorse.com